Reading Levels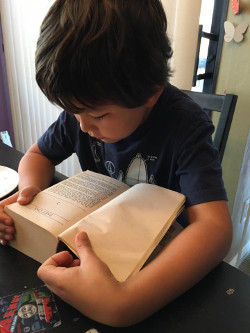 Wanting to read War and Peace at age 6. He didn't make it past the first page.
Determining and identifying reading levels is no small feat. Educators have spent decades discussing, researching, exploring and identifying criteria with the intention of being able to designate books into various reading levels. Similarly, a significant amount of time has been spent creating methodologies for determining a child's reading ability.
We have taught children how to read, each spent thousands of hours reading to children, and have identified books at an appropriate reading level for children of all ages. We understand the importance of helping children to successfully read books at every stage of reading. We also understand that each child is unique and will learn on their own time frame.
Therefore, our goal is to support parents by providing some guidelines in regards to reading level. We have determined six different reading levels, and associated each with a general age range, as well as a general grade level and form (UK). We chose broad, rather than narrow, ranges to allow for flexibility, however, children may still not fit exactly into these ranges at the identified ages. Our goal is that parents, who are the stewards of their own children, will be able to use these guidelines and then adjust as necessary to meet the individual needs of their own children.
We take a number of factors into account when determining reading level, including font size, the number of words per page, the number of sentences per page, sentence length, difficulty of vocabulary, and publisher recommendations.
On each of the series pages, as well as many of the individual book pages, we have provided example pages for you to view. This should provide a feel for the reading level, as well as a general idea of the writing style, and will hopefully provide you with additional information to determine if a particular book is a good fit for your child. Some series have consistent reading levels across all books, while others can vary, so it is still important to look at an individual book's reading level.
We hope as you explore the books on the site, these ranges will guide you towards finding the right book for the right member of your family at the right time!
Biblioguides Reading Levels are as follows: